Elaine R. Turner chosen Special Olympics OK Volunteer of the Year
May 17, 2015
By: Elaine R. Turner
OKLAHOMA CITY, Okla. (May 14, 2015) – Special Olympics Oklahoma named Hall Estill Labor and Employment Attorney Elaine R. Turner the 2015 Volunteer of the Year Wednesday evening. Turner has organized Capitol Area Special Olympic events since 1996.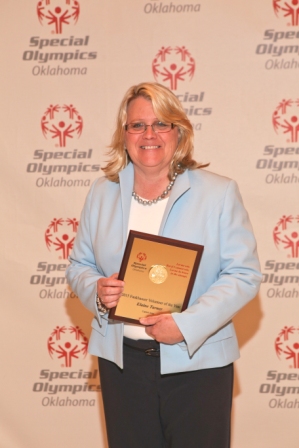 Each year Special Olympics Oklahoma presents the Volunteer of the Year award to outstanding volunteers who are committed to the athletes and who put their all into volunteering for Special Olympics Oklahoma.
"Elaine juggles a family, many friends and a successful law practice, but she still makes time to dedicate countless hours to Special Olympics," said Stephanie Palmgren, a friend who nominated Turner for the award. "Elaine has worked tirelessly to organize every single Capitol Area event for the past 19 years, and she is a member of the original Capitol Area Management Team."
Turner's award was presented during the 2015 Summer Games Opening Ceremonies in at Oklahoma State University's Gallagher Iba Arena.
"I am truly honored to have been selected as a Special Olympics Oklahoma Volunteer of the Year," Turner said. "Working for the Special Olympics is tremendously rewarding. Witnessing the excitement and huge effort put forth by each athlete to do his or her best is all the inspiration I need to return event after event, year after year."
Special Olympics, a global nonprofit organization, provides year-round sports training and athletic competition in a variety of Olympic-type sports for children and adults with intellectual disabilities, providing continuing opportunities to develop physical fitness, demonstrate courage, experience joy and participate in a sharing of gifts, skills and friendship with their families, other Special Olympics athletes and the community. The goal of Special Olympics is for all persons with intellectual disabilities to have the opportunity to become useful and productive citizens who are accepted and respected by their families, friends and in their communities.