Hall Estill Welcomes Attorneys Wray and Johnson to Fayetteville Office
January 31, 2019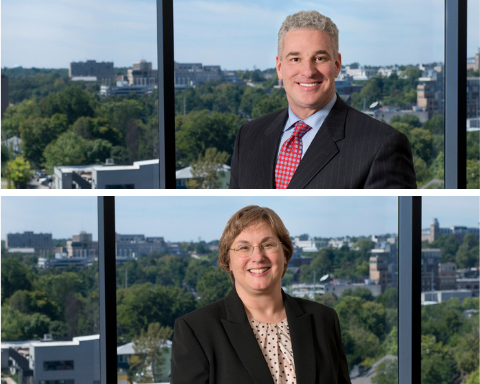 Hall Estill, a leading regional law firm based in Oklahoma, with offices in Fayetteville and Bentonville, Arkansas, Oklahoma City, Tulsa and Denver, has announced the addition of Scott E. Wray as a Shareholder and Grace Keegan Johnson as Special Counsel in the Fayetteville office.
"We are thrilled to have two outstanding attorneys join our team in Northwest Arkansas and we know they will be great representatives of our firm," said Mike Cooke, managing partner for Hall Estill. "Adding Scott and Grace and their tremendous experience in law to our team allows us to even better serve our clients' needs with the highest caliber of legal counsel and advice."
With over 20 years of experience practicing law, Wray concentrates his practice on corporate law, business transactions and commercial litigation. He advises clients on strategic business issues and transactions, including acquisitions and sales of assets, joint ventures and partnerships, employment matters, real estate transactions, and corporate governance. Wray received his J.D. from the University of Arkansas School of Law and has an individual AV peer review from Martindale-Hubbell.
Johnson is a 10-year attorney with a focus in the practice areas of hospitality and entertainment law, trademark and copyright law, employment law, appellate drafting, and business and commercial law. She brings more than 20 years of history in the hospitality industry to her law practice with experience in drafting, negotiating, interpreting and defending contracts. Johnson graduated magna cum laude from the University of Arkansas School of Law.
###
About Hall Estill:
Founded in 1966 in Tulsa, Oklahoma, Hall Estill is a full-service law firm with clients ranging from Fortune 500 corporations and medium-sized companies to nonprofit organizations, emerging businesses and individuals. More than 150 legal professionals work in the firm at offices in Tulsa, Oklahoma City, Denver and Northwest Arkansas assisting a diversified base of local, regional, national and international clients.