Tami Hines Honored by American College of Consumer Financial Services Lawyers
April 27, 2015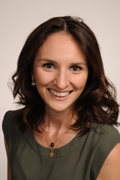 Earlier this month, The American College of Consumer Financial Services Lawyers announced the winner of its 2015 Annual Writing Competition at its annual meeting in San Francisco, California. Each year the ACCFSL seeks to recognize written contributions to the field of consumer financial services law. This year's winner in the Student category is Tami Hines of the for her article, MERS: Sometimes Agent, Sometimes Principal, Often Misconstrued. Hines is an associate attorney at Hall Estill in Oklahoma City.
Hines' award included a trip the to the San Francisco awards ceremony and a cash prize. Ms. Hines joined Hall Estill after graduating law school in 2014. While in law school she was the Editor in Chief of the Oklahoma City University Law Review for the 2013-2014 academic year and a William J. Holloway American Inn of Court student member.
Founded in 1996, the ACCFSL is a professional association of lawyers particularly skilled and experienced in handling consumer financial services matters and dedicated to the improvement and enhancement of the skill and practice of consumer financial services law and the ethics of the profession. The College brings together into an association qualified members of the profession who, by reason of their character, skill and ability, will contribute to the accomplishments and good fellowship of the College.