Hall Estill Welcomes Attorneys Byrne and Carsey to Oklahoma City Office
October 1, 2018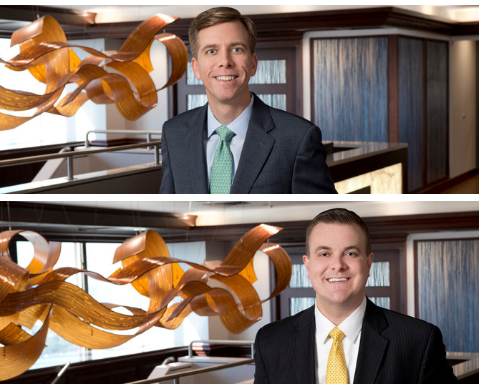 Hall Estill, Oklahoma's leading law firm, with offices in Oklahoma City, Tulsa, Denver and Northwest Arkansas, has announced the addition of Justin P. Byrne and Daniel V. Carsey as shareholders in the firm's Oklahoma City office.
"Justin and Daniel are wonderful additions to our Oklahoma City team," said Mike Cooke, managing partner for Hall Estill. "We believe that both our clients and the OKC community will see their dedication to the law and client service."
Byrne's practice includes mergers, acquisitions and divestitures; equity and debt financing; securities and stock exchange compliance; corporate governance; commercial oil and gas transactions; investor relations; and executive compensation matters. He graduated from the University of Texas School of Law with honors.
Carsey focuses his practice on commercial litigation in the oil and gas, banking and technology industries. After graduating from the University of Tulsa College of Law with highest honors, he clerked for the Honorable Earl S. Hines, United States District Court for the Eastern District of Texas.

About Hall Estill:
Founded in 1966 in Tulsa, Oklahoma, Hall Estill is a full-service law firm with clients ranging from Fortune 500 corporations and medium-sized companies to nonprofit organizations, emerging businesses and individuals. More than 150 legal professionals work in the firm at offices in Tulsa, Oklahoma City, Denver, Northwest Arkansas and Portland assisting a diversified base of local, regional, national and international clients.